Best things to do in BENIDORM, Spain's latest guide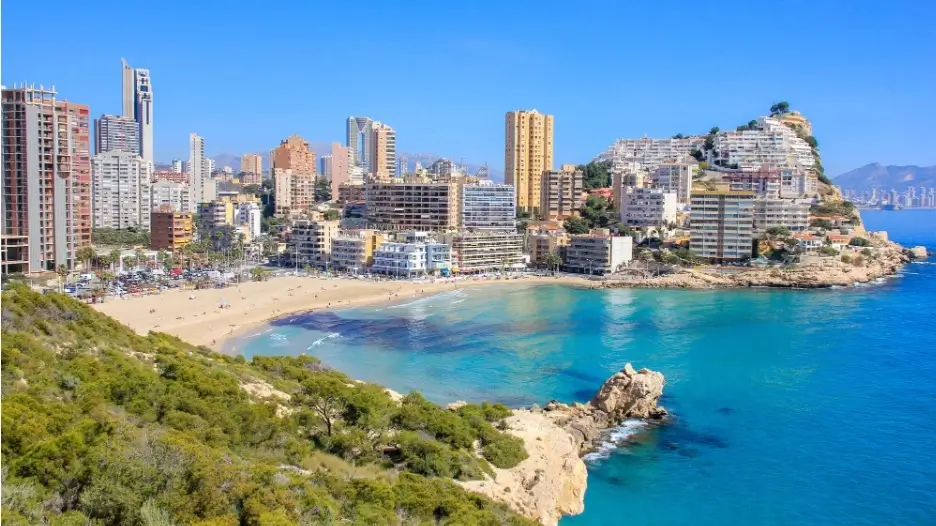 Are you exploring the things to do in Benidorm, Spain? Do not be tense about that. We have got you 18 amazing things. We are sharing all our favourite tips, and Benidorm offers because our team has spent a lot of time visiting and living in Spain. Mountains, hills, Levante and Poniente beaches, and skyscrapers with perfect weather full year. No doubt, Benidorm is one of the best places for Spanish holidays.
What is Benidorm, and where is it located?
Benidorm is a town and municipality in the province of Alicante, Valencia. Benidorm is in the Valencia region's famed Costa Blanca area. It is the most beautiful city with beaches and scenery made of high rises and rocky cliffs. For strange people, Costa Blanca lengthens over 200 km and is made up of an awesome Mediterranean coastline.
As it is the most famous tourist resort town in costa Blanca, there is no deficiency of things to do in Benidorm, even if you want to enjoy the amazing outdoors, visit attractions and monuments, or want to spend some of your vacations at several Spain's top theme parks.
Here is a sum up of the amazing things to do in Benidorm; almost nothing can be missed on a visit to this beautiful city!
10 Best things to do in Spain, Benidorm
1. Hit the beach (levanter beach)
Undoubtedly, one of the best things to do in Benidorm is enjoy the hours of sunshine at the beach. In short, Benidorm is heaven for beach lovers because Benidorm is well known for its crystal clear water beaches, sheltered coves, and sandy beaches.
Playa de Levante, or Levante beach, is the most famous beach with the scenery of huge crescent sand, turquoise water, and a towering city behind. If you want a peaceful beach, go to playa de Poniente now, which is 6 km of sandy heaven. One more beach worth checking out is playa de mal pas.
2. Visit Benidorm's old town.
Before the arrival of skyscrapers, Benidorm was a whitewashed fishing town. You can still enjoy the past of Benidorm at Casco Antiguo, or an old town. The old town is situated between playa levanter and Poniente beach. There are various traditional monuments that you must visit. Those are the church of san Jaime and Santa Ana, but the most awesome thing to do in old Benidorm is to watch out over the sea from the Balcon del Mediterraneo.
3. Wander around Placa del castell
To go to the Balcon Mediterraneo, you must walk through the placa del castell. This bustling area is full of vendors, musicians, and checkerboard tiles. This is also the best place to sit on the patio and enjoy a big glass of sangria.
4. Eat your way through the tapas alley.
Another perfect place for enjoying Spanish dishes is along Benidorm's famed tapas alley. Located deep in the old town is a covered alley called Calle Santo Domingo, where you can find super tasty small bites in the city. Tapas Alley is the perfect way to sample the local gastronomy while in Spain, Benidorm.
5. Indulge in a winery tour & cooking class
This winery and cooking tour is the perfect thing to do in the Benidorm as you get a little tapas and local wine!
Firstly, you'll have take visit a winery located in Alfas del pi to learn about the making process of wine. After visiting the winery, you'll go to the cooking school in Benidorm's city centre to meet with a well-experienced chef who will walk you through how to make delicious five heavenly tapas. When you have completely cheffing up your masterpiece one time, it will be time to eat your fill, drink a little more and depart with a happy belly and many recipes to make once you are home!
6. Take in wild views from la Cruz de benidorm
If you want a refreshing walk and to straighten your legs a little after beach lounging, take 45 minutes hiking to la Cruz de Benidorm, Benidorm's big wooden cross sitting atop a stunning lookout point. From the top, you can look over the whole city, making it one of the best lookout points in the area.
7. Explore treasures at the Benidorm flea market
Benidorm is the home to some fabulous markets, but the best place to go treasures hunting is at the Benidorm flea market. It opens Thursday, Friday, and Sunday; this is the place to see locals and experts selling antiques and other items. It is like a yard sale. You can find pretty much anything here. The bars at the flea market also have great deals.
8. Go scuba diving
Scuba diving in Benidorm is very famous. Aside from the canary islands, the coast of costa Blanca and Benidorm is a great place to do scuba diving due to the hot water. You can go on a boat trip and enjoy scuba diving or snorkelling to look at the colourful marine life around Benidorm.
9. Soar above the sea in a parasail
Parasailing is an unbelievable way to take in coastal views from above Benidorm and an exciting activity to break up the entire beach lounging and sunbathing. You can take a parasailing flight from Levante and Poniente beaches and enjoy soaring around the sky as the beach, and the Rocky Mountains lie below you. No matter your choice, you will remember the airy feeling forever!
10. Take a day trip to Benidorm Island.
This is Benidorm Island, a small chunk of land off the coast. Legend says that Benidorm Island came to life when a giant ripped off the top piece of a mountain and threw it into the sea, creating what sits there today. It is the perfect place for a day trip since it is so close, and the beauty of this mini island is enough to transport you past Benidorm. It is a nature reverse of Spain and is a well-known destination during boat trips.
Also Read: The 9 Best Swimming Destinations In The Incredible World