Why are Digital Drive Thrus Important for Restaurants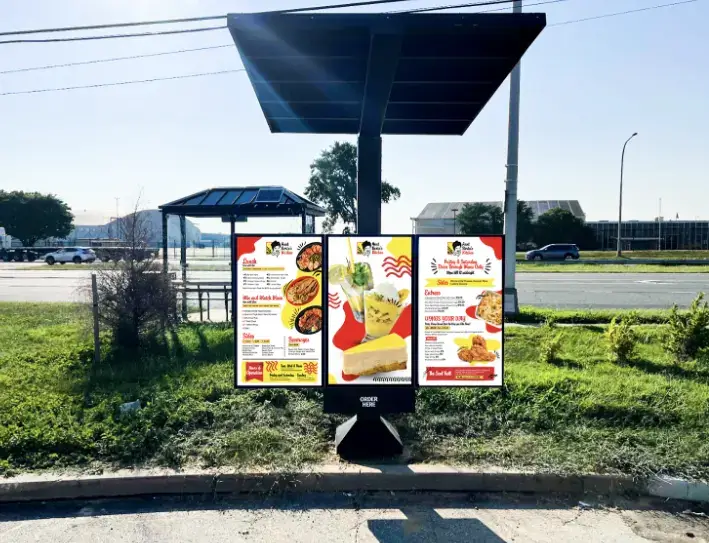 Digital drive-thrus are important for restaurants because they offer several benefits over traditional drive-thru systems. Here are some reasons why:
Speed and Efficiency: Opting for Digital drive-thru screens can help to reduce wait times, increase order accuracy, and improve overall speed and efficiency. It also allows brands to offer another channel of patronage to customers aside from in store purchases.

With digital ordering, customers can input their orders quickly and accurately without having to physically interact with a person at the drive-thru. This allows for no-contact service and in instances where the drive thru has an order confirmation system, can help to reduce errors and ensure that orders are fulfilled correctly and quickly.
Convenience: Digital drive-thrus offer customers the convenience of being able to place their orders from their cars without having to park and go inside the restaurant. This can be particularly appealing for customers who are in a hurry or have mobility issues.
Personalization: Digital drive-thrus can also offer customers a more personalized experience. With the use of data analytics and customer profiling, restaurants can offer personalized recommendations and promotions based on a customer's order history and preferences.
Increased Revenue: By offering digital drive-thru options, restaurants can increase their revenue by serving more customers in less time. This can help to increase sales and improve the overall profitability of the business.
Additionally, research shows that drive thru sales represent 70% of fast food sales which means restaurants looking to engage more customers and increase sales could benefit significantly from installing a drive thru lane complete with a digital drive thru menu board.
Enhanced Customer Experience: Digital drive-thrus can also enhance the customer experience by providing an interactive, modern and intuitive interface, and by integrating with mobile apps, loyalty programs and other digital marketing initiatives. This can help to create a more engaging and memorable experience for customers, increasing the likelihood of repeat business and positive reviews.
Choose Reddie Technology for Your Digital Signage Needs
Reddie Technology is one of the leading digital signage suppliers in NY. They offer the complete package, including indoor and outdoor signage displays with touch and non-touch functionality options, digital signage content management software, installation, various subscription options, and much more. Visit Reddie Technology or call 516.881.7782 to learn more about their services and digital signage price.