Dresses for Bridesmaids: How to Choose the Best Color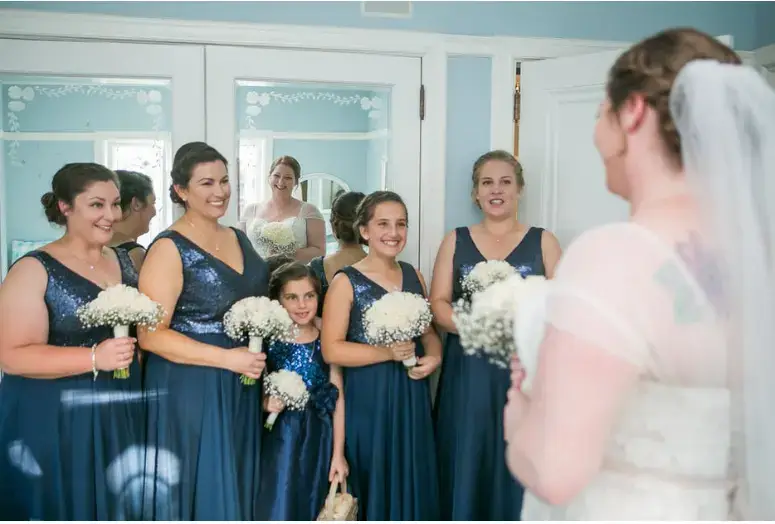 In 2023, the most popular colors for bridesmaid dresses are gray, green, gold, burgundy, and orange. Green dresses for bridesmaids (and sage green in particular) are the fastest growing, with searches up 476% from 2022.
Yet, these colors don't necessarily suit everyone. If you are searching for a color that will get the least pushback from your favorite ladies, you may need a little help.
Today, we want to lend you a hand with this guide. We'll help you choose the perfect shade for your bridesmaids based on expert advice and color theory. Keep reading to learn more.
What Color Looks Good on Everyone?
According to Kate Smith of Sensational Color, periwinkle blue is a universally flattering color. Periwinkle is a calming shade that sits about halfway between baby blue and gray. It is also known as dusty blue.
Why is this hue so flattering on so many women? It has a little to do with the shade's cool tone and a lot to do with natural aging processes.
Regardless of whether you're a winter or a summer, your hair, skin, and eye color get cooler with age. This shade of blue perfectly complements cooler colorings while also suiting warmer-hued ladies with ease.
You can find dusty blue bridesmaid dresses at the link. Or keep reading to learn about more flattering colors for your bridesmaids.
What Are the Most Popular Wedding Colors?
The most common color chosen for 2022 weddings was gold. 39% of couples chose this hue for their nuptials.
Ivory, champagne, and white were the second-most popular color schemes last year. Dark blue, light pink, and all shades of green also got a lot of attention.
These colors are good options not only for your invitations and flowers. You can also consider them for your bridesmaid dresses.
What Dresses for Bridesmaids Are Trending in 2023?
Trends for bridesmaid dresses in 2023 run the gamut, from garden party-inspired looks to Old Hollywood glamor. As in previous years, mismatched bridesmaid dresses are also in style.
If you just can't nail down a single color, mismatched dresses may be the trend for you. You can pick a theme, such as floral prints for bridesmaids dresses for summer and spring or jewel tones for a winter wedding.
Allow each bridesmaid to wear a dress of her choosing. That way, you can ensure all your favorite ladies feel great in what they're wearing while also making for a cohesive and one-of-a-kind look.
Another way to get in on the mismatched trend is to choose one color and allow your bridesmaids to pick the shade. For instance, you could choose green. Each bridesmaid can get a shade of green that suits her best, whether that's emerald, sage, or olive.
Want More Wedding Tips?
Dresses for bridesmaids have a reputation for being boring and ugly, but they don't have to be. With this guide, you can choose dresses in a color or colors that make all your favorite ladies feel beautiful.
Are you looking for more advice on your upcoming nuptials? Then keep scrolling for more articles like this one!