Custom Police Badges & Sheriff Badges: Commendation Bars for First Responders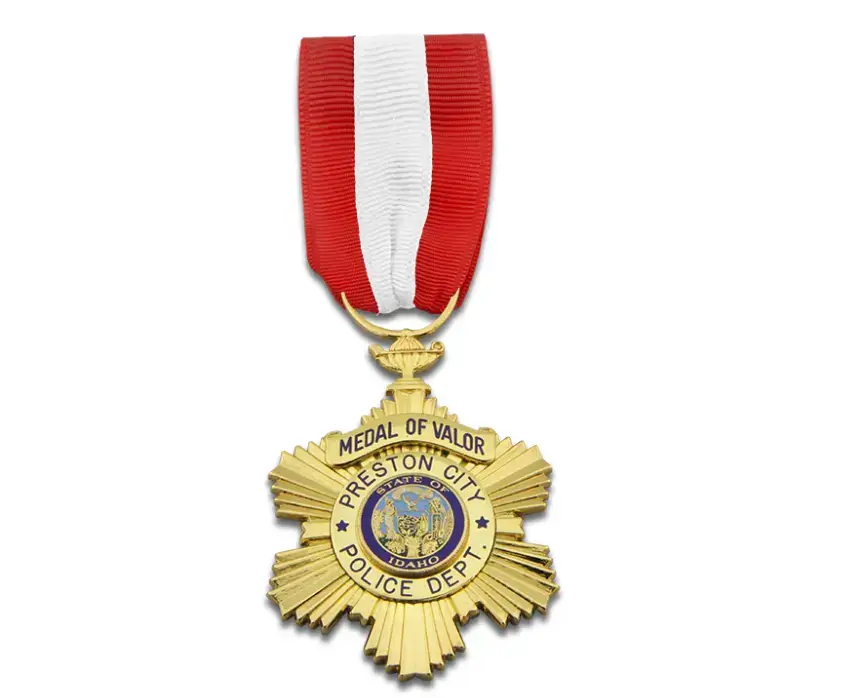 First responders are vitally important to the safety and security of our society. They are the brave men and women who run headfirst into dangerous situations to protect civilians. First responders are highly respected for their efforts, whether that be public safety, firefighting, or emergency medical services. They deserve to be commended for their service with a high-quality product.
What Are Commendation Bars
Many departments will issue commendation bars to their men and women in uniform to commemorate anniversaries, special events, achievements, or brave acts. Commendations come in the form of custom police badges, EMS badges, fire badges, sheriff badges, or challenge coins, each with a unique meaning.
A badge will be issued accordingly, depending on a first responder's actions. These finest quality police badges are worn with honor. Here are a few different types of custom badges and their meanings:
Badge for Medal of Honor
To receive the Medal of Honor, a first responder must be a member of their respective department who, under extremely hazardous conditions in which the member is confronted with imminent personal risk, performs an act of heroism that furthers the highest traditions of their service.
Badge for Medal for Bravery
To receive the Medal for Bravery, the service member must be a member of their respective department who, performing their duty while on a call, performs an act of distinguished bravery and stamina in adverse conditions of fire, environment, or weather.
Badge for Lifesaving
To receive the Lifesaving Medal, the first responder must be a member of their respective department who is primarily involved in saving another person's life and whose personal actions are directly responsible for the lifesaving act.
Badge of Purple Heart
The Purple Heart Medals or Commendation Bars are awarded to a first responder for a wound received in the line of duty while observing all expected safety procedures that required transportation to a place to receive medical care. This wound requires subsequent treatment for severe puncture wounds, lacerations, fractures, concussions, burns, or other substantial bodily harm.
Badge for Distinguished Service
To receive Distinguished Service Medals or Commendation Bars, a first responder must perform a highly unusual act of bravery under adverse conditions in the line of duty.
Badge for EMT of the Year
EMS badges are sometimes issued specifically for emergency medical technicians. In addition, an EMT of the Year Medal is awarded to the individual, as chosen by his fellow members or the department chief, who best characterizes the spirit of an exceptional emergency medical technician or paramedic.
Badge for Firefighter of the Year
Fire badges are issued to firefighters specifically by their departments for their service. The Firefighter of the Year award is presented to the individual, as chosen by his fellow members or the chief of the department, who characterizes the best attributes of being a firefighter.
Badge for Police Officer of the year
Sheriff badges or police badges are issued specifically by law enforcement officers. The award for Best Police Officer or Sheriff of the year is decided by fellow members of the individual's department to an individual who best embodies the values of being an officer of the law.
How to Find The Finest Quality Police Badges
Suppose you want to purchase a badge for a first responder's uniform. In that case, you must work with a company specializing in commendation bars, challenge coins, badges, medals, and other memorabilia.
The company you work with should have badges with a high-quality design and customization options. For first responders, you want to award them with the best commendation possible.
Before selecting a badge, ensure you know what event you're commemorating. For example, are you celebrating a special event unique to your department's city? Are you commemorating a brave act by a member of the department? Are you issuing an identifying medal? The badges mentioned above are just a small sampling of the wide array of recognized commendations that can be awarded to first responders.
Though the badge may seem like a small token of recognition, many first responders proudly wear them on their uniforms. So ensuring what you award is high quality is of the utmost importance.