Au Pair Responsibilities – What to Expect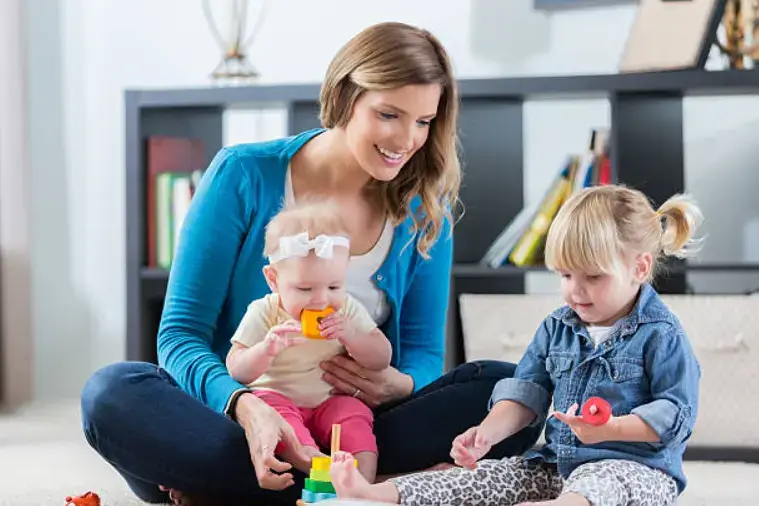 The primary role of an au pair is childcare. Families also expect au pairs to help with light household tasks that a typical family member might do, such as cooking meals or helping with laundry.
They should be expected to do something other than heavy cleaning, yard work, or pet care.
Care of Children
The primary duties of an au pair focus on providing childcare, including preparing meals, cleaning the children's rooms, and doing their laundry. This is typically the only heavy housework asked of au pairs, and it should be clearly stated in their contracts and weekly schedules so that they can prepare and anticipate when household chores might come up.
When working as an au pair you will often be asked to participate in activities the family may have planned on weekends or holidays. If requested, they will also be expected to drive the children to extra-curricular activities, appointments, and games. Depending on the age(s) of the children, au pairs will play and interact with them via activities like sports, arts and crafts, and creative play to nurture their developing minds.
If the host family has a garden, au pairs may be asked to help maintain it by watering and weeding. Light grocery shopping is usually included as well. If there are any specific food restrictions or allergies, it is an excellent idea to let the au pair know about them at the outset. Au pairs may also be expected to wash and iron clothing for the children. They might be asked to do a one-off vacuuming or clean up after guests as needed. However, these tasks should not be a regular part of their daily or weekly routine.
Light Housework
Host families expect au pairs to help with general household chores, a small amount of grocery shopping and meal preparation, washing dishes, cleaning, laundry, and tidying. These duties should be agreed on at the outset and be limited to a small portion of an au pair's contractual working hours. It is also a good idea to discuss any family-specific expectations, such as whether or not an au pair is expected to babysit on date nights or support the family during holidays and special occasions.
Host parents are also expected to give their au pairs a fair amount of time off, usually at least one day per week, to explore and socialize with friends. Au pairs should also be allowed to take a day off on official public holidays set out in the Au Pair Agreement.
Au pairs also receive a monthly allowance of up to 280 euros ($300) in pocket money for their work. This is less than a minimum wage. However, au pairs are not required to pay taxes, and they can make additional income by participating in social activities in their community, tutoring children, coaching kids' sports teams, or volunteering at a local charity. These options can be discussed with a host family during the interview process.
Travel
When expecting a child, you probably spent months reading up on what to expect. It's the same for bringing your first au pair into your family, and you must prepare yourself and her for your new role.
For example, if you plan to take your au pair on vacation with the family and continue to pay her stipend, make sure you have clear communication about her expectations regarding time off and what will happen with the childcare. This will ensure clarity about how to proceed or conflicting expectations.
Another issue that often arises is that au pairs are not 21 years old and can only legally drink in some places, so going out to socialize may be more challenging than it would be for a young adult. If you want your au pair to be able to go out with friends and participate in activities that she wouldn't otherwise have the opportunity to do, consider getting her a driver's license so that she can legally get around town on her own.
Also, remember that your au pair is a foreigner and may say or do things confusing to you. Please don't jump to judgments; encourage her to ask questions and work through the confusion together.
Socializing
An au pair is not responsible for heavy housework, yard work, or pet care, but she may share general household responsibilities that all members of the family share. This could include cooking meals and snacks for the entire family, cleaning the children's rooms and organizing their toys, assisting with homework, doing the laundry and grocery shopping, and helping maintain the home garden.
Discussing your family's expectations with the au pair at the beginning of her stay and again every week is a good idea. This will allow her to ask questions and express her concerns.
Remember that your au pair is a young adult who will need guidance and support while living in your home. She must be taught how to handle everyday situations like sibling rivalry and temper tantrums. You will also need to teach her how to respond to the children's health needs, such as taking them to the doctor or calling you if they are ill.
It is important to remember that disciplinary methods vary from culture to culture, and your au pair may need to be more familiar with those commonly used in the United States. Discussing what is considered appropriate and unacceptable behavior with the au pair at the beginning of her visit is a good idea.